Wednesday, February 2, 2000, 04:21 p.m. Pacific


Victims of Alaska Airlines Flight 261 remembered



by Seattle Times staff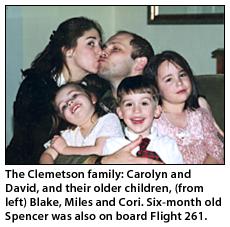 Editor's note: For easier navigation, the following story is in two parts on this site. Click on the link "More victims of Flight 261" at the bottom of this page for the rest of this story.

Block-party organizer. Christmas-cookie baker. Tireless worker. Conscientious doctor. Mother hen. Dog lover. Missionary. Energetic student.
The 88 people who died in Monday's crash of Alaska Airlines Flight 261 had myriad labels. But for many, the most important was the one signifying membership in that ever-changing institution: family.
They were mothers and fathers, first, second and soon-to-be husbands and wives, same-sex partners, sons, daughters and single moms.
Share your thoughts and feelings about Alaska Airlines Flight 261 in a moderated forum .
In snapshots, they hug one another and grin, snuggle with their children, pose proudly with partners. They are happy. Or silly. Or dignified. Or just together.
Friends, neighbors and colleagues spoke of them as part of the fabric of their own lives, of their communities. They built cabinets and remodeled their homes, climbed Mount Rainier, played guitars, skied with their kids.
They were Queen Anne couple Sarah and Rodney Pearson, remembered by a friend as "golden-rule people" who helped hold the neighborhood together and always made time for family.
And Morris Thompson, Alaskan Native leader who worked tirelessly to improve life in native villages.
And Peggy Stockley, who tucked a surprise into a drawer for her 93-year-old mother before she and her husband, wine writer Tom Stockley, left for Puerto Vallarta. The note discovered by her mother, Margaret Hodges, was short and sweet: "I love you."
The crash claimed the entire Clemetson family of Seattle: Dr. David Clemetson and Carolyn Clemetson, and children Coriander, 8, Blake, 7, Miles, 6, and Spencer, 6 months old.
Their friends, the Pearsons, were also with their children - Rachel, 6, and Grace, 22 months - when the plane went down.
Terry and Barbara Ryan of Redmond also died with their children, Bradford "Pat" Ryan and James Ryan. Also with them were Jim Ryan's friends, Abigail and Ryan Busche; Russell Ing; Deborah Penna, and Michael Bernard. They were all celebrating the 30th birthday of Jim Ryan, a Portland-based Alaska flight attendant, and Pat's graduation from Washington State University.
The Ryans were a "very special family who supported each other," said Bob Merz, a friend who had known the family for more than 20 years.
So were Craig and Paul Pulanco, a witty, fun-loving couple who loved their two dogs and the garden of their South Seattle home, where they were known for having the most creative Christmas decorations on the block.
The passengers and crew members aboard Flight 261 lived and worked in Seattle and elsewhere along the West Coast. Here is how many are remembered by people who knew and loved them:
Monte Donaldson and Colleen Whorley
Peaceful spirits. That's what friends said about Colleen Whorley, 34, and Monte Donaldson, 31, of Seattle. The two were to be married in September.
Ms. Whorley was an art director at Microsoft, a job that allowed her to hone her skills in photography. Mr. Donaldson worked as a freelance landscaper, but his passion was music and filmmaking.
"They were really complementary," said Adam Suhl, 32, a friend. "I remember one time she told me that as different as they were, that he was as close to being her as she had found."
Mr. Donaldson was described by friends as a well-respected "ambient" deejay, a slower form of music mixing meant to relax the audience. He performed under the club name DJ EEG.
The couple had just bought a home. After the wedding, they planned to honeymoon in Ireland and Bali.
Chris Roberts, who owns several Seattle clubs, said Mr. Donaldson e-mailed him several times during the couple's trip to Mexico, sending him poetic descriptions of their time in the sun.
"Monte will always be an inspiration to me to kind of stop myself from jumping in the rat race; to take the moment, to take it all in," he said.
Malcolm Branson and Janice Stokes
After a lifetime at sea, no one expected Malcolm Branson to go down this way.
The 39-year-old Alaskan native and oiler for the Alaskan Marine Highway ferry system was coming home from a long vacation with his fiancee, Janice Stokes, when they died.
Branson, who was born in Sitka, Alaska, served in the Air Force and spent some time in Seattle while attending a marine-engineering school, said his mother, Margaret Branson of Seward, Alaska.
He loved his job, and he loved people, his mother said.
"He was a very tall, good-looking, handsome man," she said. "A very sweet gentleman."
Never married, Mr. Branson finally found his future mate when he met Ms. Stokes, his mother said.
Also an Alaskan native, Ms. Stokes had three college-age children who were traveling to Seattle to meet other relatives this week, Margaret Branson said. She also has a brother, Stewart, in Seattle and a sister in Alaska.
Mr. Branson has two brothers in Alaska and a sister in Scotland, their mother said.
Joe and Linda Knight
Joe and Linda Knight were missionaries working to improve conditions for starving families and children in Mexico. The couple's children hope the publicity surrounding their deaths can transform their parents' hopes into reality.
The Knights, who were co-pastors of The Rock Church Northwest, a church in Monroe, recently celebrated their 32nd anniversary.
Mr. Knight graduated from Bothell High School and served with the U.S. Air Force in Vietnam. Mrs. Knight, who grew up in Monroe, was writing a second novel based on her own life.
But their greatest passion was for the disadvantaged people they met in Mexico. The Knights dreamed of building a school for them.
Sheri Christensen
Sheri Christensen, 25, grew up in Yakima, the second of four children of Bob and Pat Stookey.
Mrs. Christensen was gregarious and competitive and nothing could thrill her more than a good volleyball match.
"She'd be the one out there hitting the ball the hardest," said Lucinda Newman, a family friend.
Mrs. Christensen worked for Horizon Air as a ground-service agent and next month had planned to go to school to become a personal trainer, according to Newman.
She met Jeff Christensen, whom she would eventually marry, when she was a student at A.C. Davis High School in Yakima. The couple eventually moved to the Seattle area.
"She was really funny, really outgoing, she was like a best friend," said Jessalyn Orrino, 15, whom Mrs. Christensen used to baby-sit. "She would have made a great mom."
Stacy Schuyler
Stacy Schuyler, 20, was a ground-service agent for Horizon Air. She was from Milton but lived in Federal Way, and she was a 1997 graduate of Puyallup Senior High School.
Bob and Patty Williams
Bob Williams, 65, and Patty Williams, 63, lived in Poulsbo, Kitsap County, where Mr. Williams served on the city's Planning Commission in the 1980s. Mrs. Williams would have celebrated her 64th birthday next Tuesday.
Terry and Barbara Ryan; Bradford Patrick Ryan and James Ryan
At the Redmond home of Terry and Barbara Ryan yesterday, friends and neighbors came and went throughout the day, trying to cope with the tragedy that was supposed to be a celebration - of son James Ryan's 30th birthday and son Bradford Patrick Ryan's college graduation in December with a civil-engineering degree from Washington State University.
Mr. Ryan, 55, was born in Georgia, while Mrs. Ryan, 54, was from Alabama. Mr. Ryan served in the Air Force in Vietnam and had been sent to the Seattle area by the Masonite Co. after leaving the service. He later started his own commercial printing business, Copy Cat, in Redmond.
Mrs. Ryan worked in marketing for SmithKline Beecham Clinical Laboratories.
Their son James Ryan turned 30 Friday, the day the family left for Mexico. He majored in Spanish at Western Washington University in Bellingham, spent a year in studying in Colombia, and first went to work as a flight attendant for Horizon Air. He began working for Alaska about two years ago.
Bradford "Pat" Ryan, 33, was a Ski Patrol member who minored in business administration.
Michael Bernard
Michael Bernard had gone to Puerto Vallarta with his friend James Ryan, Ryan's family and four other friends.
He was 30, single, and owned four guitars. This past Christmas, he cut a compact disc of original rock songs for his parents, Paul and Irene Bernard of Kirkland. He wasn't very good, but he loved making music, said an aunt, Suzanne Betz.
Mr. Bernard graduated from Lake Washington High School in 1987 and earned his bachelor's degree from Western. He lived in an apartment on Seattle's Capitol Hill and worked as an accountant for MPL2.com, a Bellevue business.
Co-workers laid flowers on his desk yesterday.
Mr. Bernard also was accompanied on the trip to Mexico by friends Ryan and Abigail Busche, Russell Ing and Deborah Penna, his aunt said.
It was his first trip to Mexico. "This guy just wanted to have a nice vacation," his aunt said. "I hope he did."
Abigail and Ryan Busche
Ryan and Abigail Busche of Seattle met as students at Western and married in 1998.
"Both of them were very outgoing," said Mr. Busche's mother, Marianne Busche of Olympia. "They both were very creative."
Mr. Busche was working in Microsoft's games group as a temporary employee for ArtSource, a Bellevue-based design and art-production company.
His wife had also worked for ArtSource but had recently been hired full-time by Microsoft.
"Obviously, our hearts go out to everyone that was involved in that incident, not only people that were connected with us," said Dan Leach, a Microsoft spokesman.
Mr. Busche grew up in Olympia, attending Capital High School; Mrs. Busche grew up in Bow, Skagit County, near Mount Vernon.
Dr. David Clemetson and Carolyn Clemetson; and Coriander, Blake, Miles and Spencer Clemetson
Dr. David Clemetson, an infectious-disease specialist, was traveling with his wife, Carolyn, and their four children.
Three of the four - daughters Coriander and Blake and son Miles - attended John Hay Elementary School in Seattle.
Their baby son, Spencer, also died in the crash.
While affiliated with the University of Washington early in his career, Dr. Clemetson, 40, conducted research in Nairobi on the AIDS virus, HIV. He later went into private practice and was a partner in Three Tree Internal Medicine, a Burien clinic.
"David was an extremely bright and able physician. He was compassionate, conscientious and very much depended upon" at Highline Community (Hospital), said one of his partners, Dr. Steven Bundy.
Mrs. Clemetson, 31, formerly owned a travel business in Ohio, friends said. She was Dr. Clemetson's second wife and was working toward a master's degree in art therapy.
"She was a very giving person. If she saw somebody needed something, she would focus on making that happen," said Ginny Torres, Dr. Clemetson's longtime medical assistant.
Blake and Coriander were Dr. Clemetson's daughters by a previous marriage to Claire Barnett of Seattle, a family-practice doctor.
Miles was Mrs. Clemetson's son by a previous marriage. Together, David and Carolyn had Spencer.
Torres said Coriander was quiet but very poised. Blake was shy, but when she got to know you, she was "very gentle and loving." Miles was outgoing and friendly, Torres said, and Spencer was a very peaceful baby. The family lived in Seattle's Queen Anne neighborhood.
"What he (Dr. Clemetson) liked best in life was his family," said Torres. "His life was full with the kids and Carolyn. All the rest was extra."
Sarah and Rodney Pearson; Rachel and Grace Pearson
Sarah and Rodney Pearson were the kind of couple that held a neighborhood together. In their case, the neighborhood was atop Queen Anne hill, where the Pearsons and their two daughters reveled in life.
"This was their first home and they just liked to entertain and socialize with neighbors," said Steve Fawthrop, director of advertising for the Puget Sound Business Journal. "Real golden-rule people. I can't remember them ever criticizing anyone. Sarah was the mother hen of the block. She organized the block party last summer, (and) the Christmas party."
Being nice came naturally, but it was a useful quality for both in their jobs. Mrs. Pearson was a flight attendant for Alaska Airlines. Mr. Pearson was the first chef at the Jake O'Shaughnessey's and F.X. McRory's restaurants. In 1995, he met Tom Church; and together they opened the first of what they hoped would become a high-end chain of neighborhood restaurants - Six Degrees.
Having children changed them in predictable ways. Mrs. Pearson, a native of Spokane, cut back on the amount of time she spent flying, concentrating, instead, on Rachel's ballet lessons and cooperative daycare. When Grace was born two years ago, Mr. Pearson made it clear at work that his Sundays were to remain free for his family.
There was little time for anything else. The tickets to Mexico provided the opportunity to get away with their friends and neighbors, David and Carolyn Clemetson.
The neighborhood's loss set in throughout yesterday, as friends gathered at the house next door to the Pearson home to talk about and absorb what had happened.
"It's hard and shocking," said Fawthrop. "Sarah loved everything. She loved to get the kids dressed up for Halloween. She loved decorating the house for Christmas and baking cookies. Loved Easter. They had become very homey."
Tom and Peggy Stockley
Tom Stockley, Seattle Times wine columnist, died with Peggy Stockley, his wife of 40 years and the mother of their two daughters.
In the business, he was known as an honest and credible journalist, a gentleman and a professional.
"We lost two wonderfully vibrant friends in Tom and his wife," said Allen Shoup, president and CEO of Stimson Lane, parent company of Chateau Ste. Michelle and Columbia Crest.
Stockley, 63, retired in 1989, but continued writing his column for The Times, which began in 1973.
Peggy Stockley, 62, an animal lover and community activist, edited the Floating Homes Association newsletter.
Rachel Janosik, Ryan Sparks and Meghann Hall
Three recent graduates of Enumclaw High School, traveling together, Rachel Janosik, 20; Ryan Sparks, 20; and Meghann Hall, 19, "were all terrific kids," said Principal Terry Parker.
Ms. Janosik had worked for Alaska's sister airline, Horizon Air, since last summer and was excited about the travel opportunities.
"She was really getting into traveling," said her brother, Matt, 18. "We just got her a set of luggage for Christmas."
Ms. Janosik, a food and beverage agent for the airline, was able to travel free on the flight, bringing along her close friend, Ms. Hall, and Ms. Hall's boyfriend, Mr. Sparks.
Ms. Janosik, who graduated from Enumclaw in 1997, and Ms. Hall, who graduated in 1998, had been teammates on the girl's fast-pitch softball team, Parker said.
Mr. Sparks, a 1997 graduate, had been a starting guard on the school's varsity basketball team.
"I remember he was a champion of the underdog," said Bill Hawk, the school's basketball coach. "He ran with some people who might not have been the most popular, but he really stood up for them."
School counselor Kim Kravagna said both Ms. Janosik and Ms. Hall, who were serious about athletics, had at one point considered careers in sports medicine or coaching.
"They were incredibly funny, enjoyable kids to be around. Neither one of them had a bad bone in her body."
Morris and Thelma Thompson; Cheryl Thompson
According to friends and colleagues, millionaire businessman Morris Thompson was more than a corporate leader, more than just a Native leader or guiding benefactor, more than just a beloved friend, husband and father.
"Morrie was an Alaskan leader through and through," said close friend Byron Mallott of Juneau, himself an Alaskan state leader and a member of the board of directors of Alaska Airlines.
Mr. Thompson, 62, his wife, Thelma, 56, and their eldest daughter, Cheryl, 33, were returning from a celebratory retirement vacation in Mexico.
Mr. Thompson retired in December after 12 years as president of Doyon, Ltd., a multimillion-dollar Alaska Native regional corporation based in Fairbanks. Affiliates of the company control oil, timber and tourism interests throughout central Alaska.
Mr. Thompson, an Athabascan Indian, grew up in the village of Tanana in Alaska's interior. As a young man, he learned satellite technology and became involved with the space program. From there, he kept rising, Mallott said.
He was a special assistant to Gov. Walter Hickel in 1966. He served in the late 1960s and early 1970s as commissioner of the Bureau of Indian Affairs, the first Alaskan Native to hold such a high-ranking federal post.
Mr. Thompson also worked for a year as president of the Alaska Federation of Natives.
Mallott's wife and Mr. Thompson's wife, Thelma, are cousins. Mrs. Thompson is also a first cousin of a state senator and of Mary Jane Fate, another Alaska Airlines board member, Mallott said.
"Thelma was the culture bearer," Mallott said. "She was adept at just about anything she put her mind to."
Their daughter Cheryl lived in Valdez, Alaska, where she was a pioneer in the "extreme skiing" sports movement.
Craig and Paul Pulanco
Neighbors remembered Craig and Paul Pulanco as hard-working AIDS activists, a witty, fun-loving couple who loved their two dogs almost as much as the garden that adorned their South Seattle home.
"And they had the most creative Christmas house on the block," neighbor Edward Ovalles said.
Craig Pulanco, 30, who changed his name from Craig Gruhl, was working as an attendant aboard Flight 261. His partner of many years, Paul Pulanco, 40, apparently was along as a guest.
Craig Pulanco joined Alaska Airlines on July 1, 1996. Paul Pulanco was a case worker at the Northwest AIDS Foundation office in Seattle. Craig Pulanco volunteered for the foundation.
The couple had two dogs, Luna and Scott, a cat and a rabbit.
The Rev. Rodney Romney of Seattle First Baptist Church said he recalls the joy surrounding the commitment ceremony he helped perform two years ago for the two men.
"I remember the ceremony very well because they had their dog - a wonderful, big dog - as part of the ceremony," Romney said. "The dog was the ring-bearer."
James 'Jay' Luque
Jovanna Luque, Olympia, said she had planned a trip to San Francisco to see her son James "Jay" Luque for his 42nd birthday. Instead, she was on her way yesterday to California to find out more about his death.
Mr. Luque was one of six children, his mother said, and the second child she has lost in the past 14 years. He worked for a catering company.
Don Shaw
Many who knew Don Shaw at the state Capitol in Olympia remembered him as an affable tour guide, a fixture in the halls of the Legislature.
"A lot of people in the Legislature knew him, and around the Capitol people knew him," said state Department of General Administration spokesman Steve Valandera. "He was just a great guy, a well-liked guy."
But even before the 63-year-old Mr. Shaw started leading tours in Olympia, people in Snohomish knew him as a longtime principal at two elementary schools in the Snohomish School District, Cathcart and later Riverview. And even before that, people in Edmonds knew him as an elementary-school teacher and librarian.
"He was just the salt of the earth, loved the kids, a great humanitarian," said Lynne Kline, a district spokeswoman.
Mr. Shaw leaves behind his wife, Earlene, who works at the state Senate cafeteria.
Mr. Shaw served in the Navy from 1954 to 1957 before becoming a teacher, Valandera said. He retired as a principal in 1991 and moved south.
Robert and Lorna Thorgrimson
Robert and Lorna Thorgrimson lived in Poulsbo. He is the grandson of O.B. Thorgrimson, a founding partner of the prominent Seattle-based law firm Preston, Thorgrimson, Shidler, Gates & Lucas, which became Preston, Gates & Ellis in 1994.
"We express our sympathies to the Thorgrimson family and all of the families who lost loved ones on this flight," said B. Gerald Johnson, managing partner of the firm.
Mr. Thorgrimson's father, Richard Thorgrimson, was a longtime partner in the firm.
Harry Stasinos and Charlene Sipe
Harry Stasinos and Charlene Sipe were longtime Seattle insurance agents who lived together in Brier.
At Prime Insurance, where Mr. Stasinos served as vice president for a short time starting in 1996, employee Connie Davis said he had a sweet disposition.
"He was an easy-going guy. I really liked him. He was kind of laid-back, he liked to party, and he liked to travel."
The couple had worked for several years together at the Roy Potter Insurance Agency. "They were both very happy people," said the owner's son, Scott Potter. "One of my employees talked to them right before they went down to Puerto Vallarta. I know they had a great time there."
At the time of their deaths, the couple was believed to be starting their own insurance agency.
Mr. Stasinos also served for a time with the Federal Emergency Management Agency and was an active member of the Seattle-area Greek community.
Stanford Poll
Stanford Poll was a Mercer Island resident who had numerous business and property interests.
Mr. Poll's wife, Gabriel, was not traveling with him, said Shari Gross, who took calls for the family. Mr. Poll, 59, also has two college-age daughters, she said.
"He was a wonderful person, who was the best friend anyone could ask for." Mr. Poll lived most of his life in the Seattle area, but also spent time in Alaska, Gross said.
"He was a very aggressive business person," said Mr. Poll's brother Harry. "He was the kind of a guy who would say `Let's take this corner and put a newsstand here."' And, he added, it would work.
Jean and Robert Gandesbery
After a student died two months ago, University of San Francisco teacher Jean Gandesbery turned sadly to a colleague and said, "We never really do know how much time we have."
"It was really prophetic and really sad," said Lisa Morana, interim director of the university's Sacramento campus, where Mrs. Gandesbery taught writing as an adjunct instructor.
She and her husband, Robert Gandesbery, both of Davis, were returning from a vacation.
Mrs. Gandesbery just had her childhood memoirs published by Minerva Press in a novel "Seven Mile Lake." Mr. Gandesbery was retired.
"They're really nice people. They're just such pleasant people," said Jerome Vigil, who was house-sitting for the couple and watching over their golden retrievers, Emma and Casey.
The following Seattle Times staff reporters contributed to this report: Carol M. Ostrom, Monica Soto, Manny Gonzales, Ian Ith, Florangela Davila, Roberto Sanchez, Mike Lindblom, Peyton Whitely, Eric Sorensen, Warren King, Polly Lane, Jack Broom, Lisa Pemberton-Butler, Chris Solomon, Mark Rahner, R.T. Nelson and Stuart Eskenazi.
Information from The Associated Press and the Los Angeles Times is included in this report.


Copyright © 2000 The Seattle Times Company
---